Our Process
We go to great lengths to insure that we produce a quality product. Once we receive a item it is put through either a garnet blasting cycle, or other blasting media depending on the parts sensitivity. Once all the rust, paint, and foreign debris have been removed; we clean the bare metal with a phosphate steam. This insures that the rust does not redevelop under the powder coating. Once the product has been fully prepared it is put into the coating booth and coated. Once coated the parts are rolled over to our oven and baked so the powder can cure into a hard shell to protect the item for years to come.
USES
Powder coating is used on everything from kitchen and household appliances to outdoor furniture, large tractors, automobiles, lawn mowers and even fire extinguishers and furnaces.
BENEFITS
Powder coating is:
Highly durable and long-lasting in a variety of environments
Difficult to scratch or chip
More environmentally friendly than liquid finishes
Applied in an efficient process, resulting in cost savings
In addition, powder coating cost about 30% less than liquid application.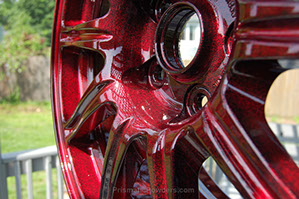 The powder coating process itself offers another advantage - it is environmentally friendly and virtually pollution-free! Unlike liquid paint, no solvents are used in powder coating, so only negligible amounts of VOCs are released into the air. In addition, unused or oversprayed powder can be recovered, so any waste is minimal and can be disposed of easily and safely. Choose powder coating and do your part to preserve the environment.
Copyright 2013 Fluid Industries, llc All rights reserved. 745 S. 4th st Beaumont, TX (409) 212-9730